May 12th, 2010
---
08:42 pm - Uusia pentuja - New kittens
Talvivaaran toinen siperiankissapentue syntyi tänään. Ylpeä emo on Talvivaaran Arya Stark eli Siiri, oma ruskeatiikerikasvattini, ja isä on mukava punatabbykuvioinen sylikolli Laxforsens Skare eli Felix. Pariskunta sai kolme kaunista tytärtä ja yhden komean kollipojan, jotka tulivat maailmaan eläinlääkärin avustuksella sektiolla. Siiri-emo näyttää toipuvan hyvin ja pennut ovat pirteitä ja pontevia. Pennut kasvavat Turussa Siirin sijoituskodin huolellisessa hoivassa.


The second litter of Talvivaaran cattery was born today. The proud mother is Talvivaaran Arya Stark aka Siiri, a black mackerel tabby from my own breeding, and the father is cuddly and good-natured red tabby Laxforsens Skare aka Felix. The couple got three beautiful daughters and one handsome son, whose birth required veterinary assistance. The mother seems to be recovering well, though, and the kittens are lively and sturdy. They will grow up in the diligent care of Siiri's foster home in Turku.
Current Mood:
ecstatic

October 25th, 2009
---
11:48 pm - Hyväsydäminen Nuppu - Good-hearted Nuppu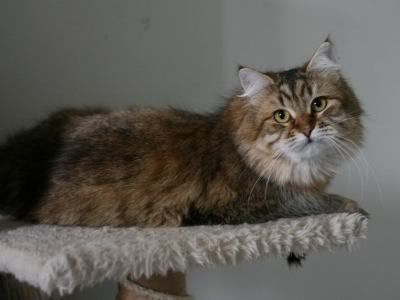 Flora Sibaris eli Nuppu on taas todettu ja todistettu hyväsydämiseksi, eikä pelkästään kultuisen luonteensa takia. Kissarouvan sydän tutkittiin keskiviikkona ultraäänellä ja eläinlääkäri totesi, ettei siitä löytynyt mitään merkkejä hypertrofisesta kardiomyopatiasta eikä muustakaan poikkeavasta. Nuppu sai myös epävirallisen luonnetodistuksen "ihanan rohkea ja sosiaalinen kissa."

Flora Sibaris aka Nuppu has again been proven and testified to be good of heart, and not only because of her wonderful personality. The echocardiographic examination on Wednesday showed the feline lady to have sound heart, with no signs of hypertrophic cardiomyopathy or any other irregularities. Nuppu was also unofficially attested to being "a wonderfully bold and sociable cat".


Kuvasta sitä on ehkä vaikea erottaa, mutta Nupun meripihkankeltaiset silmät ovat alkaneet vihertää! Aika näyttänee tuleeko siitä lopulta ihan vihreäsilmäinen.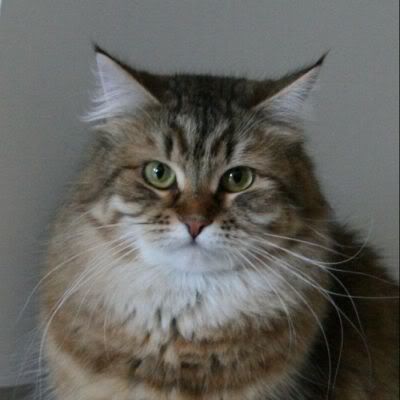 It may be difficult to spot on the photo, but Nuppu's amber-yellow eyes have acquired a greenish tint. Time should tell if they eventually become green through and through.
September 27th, 2009
---
10:22 pm - Syyskuulumisia - Autumn News
Taikan pennut muuttivat viikko sitten omiin koteihinsa. Porkkana, nykyään Lassi, muutti ensimmäisenä ja asuu nykyään Vantaalla nuoren parin hemmoteltavana. Nalle löysi oman kodin mainiosta turkulaisesta perheestä ja suunnittelee näyttelyuraa, kenties suvunjatkamistakin. Viimeisenä vaan ei vähäisimpänä muutti Donna, niin ikään Turkuun, uuden isännän, emännän ja kissakämppiksen luokse.

Taika's kittens left for their own homes a week ago. "Carrot", now called Lassi, was the first to move and now resides in Vantaa, being spoilt by a young couple. "Teddy" found himself a lovely family here in Turku and is planning a show career, perhaps also eventually dating. Last but not least, Donna moved in with her new owners and feline flatmate in Turku.


Pentueen luovutuksen myötä Taikan sijoitusehto täyttyi ja se on nyt virallisestikin minun ikioma kissani. Taikula-Suikula-Huiskula saa nyt rauhassa lepäillä, kasvattaa turkkia ja olla lellikkinä, ja sitten olisi tarkoitus taas piipahtaa näyttelykehissä esittelemässä smaragdisilmäistä jalokiveä.

With Taika's kittens moved and the terms of her fostering contract fulfilled, she became officially my own cat. Now she gets to rest, grow some coat, and generally be spoilt, and then it's time to take this emerald-eyed jewel to some shows again.
Current Mood:
content

July 31st, 2009
---
07:36 pm - Puolimatkassa - Midway
Kuusi viikkoa ja rapiat on vierähtänyt Taikan troikan syntymästä. Troikka kiitää nykyään pitkin lattioita, huonekaluja, ikkunaverhoja, emännän housunpunttia... Hauskaa on!

Six weeks and then some has passed since the birth of Taika's troika. These days the troika careens along floors, furniture, draperies and my trouser leg... Having fun!

Kuusiviikkoiskuvia troikasta Amante's-kissalan albumissa
Six-week photos of the troika in Amante's photo album


Pippuri-tyttö, virallisesti Amante's Prima Donna, on löytänyt oman kodin Turusta ja neitiä odotetaan siellä innokkaasti. Kutsumanimi on nykyään Donna. Pojat etsivät vielä omia koteja, joko yhdessä tai erikseen. Nalle eli Amante's Paso Doble on tomera ja vankkarakenteinen halikatti, joka komeana poikana kävisi mielellään joskus näyttelyissäkin kodin lellikkinä olemisen ohella. Porkkanasta eli Amante's Pizzicato Polkasta on kuoriutumassa kauniin punaruskeaturkkinen kollipoika, joka on valmis ryntäämään vikkelin tassuin uuteen kotiin, oman ihmisväen sydämiin.

"Pepper", officially Amante's Prima Donna, has found her own home where she'll be called Donna. The boys are still looking for their own homes. "Teddy", that's to say Amante's Paso Doble, is a braw sturdy cuddlycat who, being a handsome example of the Siberian breed, might also wish to present himself at cat shows occasionally. "Carrot" aka Amante's Pizzicato Polka, whose babycoat is peeling away to reveal a lovely warm brown fur, is ready to run with flickering feet to the home and hearts of his very own humans.

July 13th, 2009
---
11:23 pm - Tulevat riiviöt - Towards rascaldom
Viikon vieriessä pennut ottivat tosissaan tassut alleen. Pesälaatikon reunan ylitys käy helposti ja sitten pienet käpälät kantavat häkellyttävän kauas. Onneksi Taika-emolla on apuvoimia vipeltäjien vahtimiseen! Eilen setä Sandels paimensi yhden pennun takaisin kaukaa olohuoneesta, jonne vesseli oli ehtinyt emon imettäessä kahta muuta. Kiipeily on myös alkanut kiinnostaa ja leikkisät nujakoinnit sisarusten kesken ovat jo tavanomainen näky

During their fourth week the kittens mastered the skill of running around. Climbing out of the nest is now an easy feat, and then the little legs carry them astonishingly far. LUckily Mama Taika has help at hand! Yesterday Unca Sandels herded one kitten back from faraway living room, where he had ventured while mama was nursing his siblings. The kittens have also taken an interest in climbing things, and mock tussles among siblings are a common sight.

Pentujen kuvaaminen on haasteellista, mutta muutama otos sentään on napattu. Tässä Pippuri:
Photographing the kittens is a challenge, but I managed to snap a few shots. Here's "Pepper":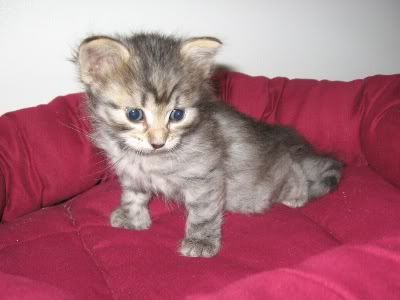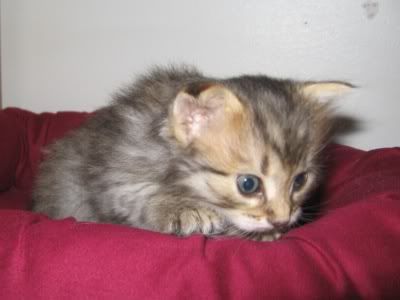 Nalle-poika äijäili kameralle:
"Teddy" being a Big Boy: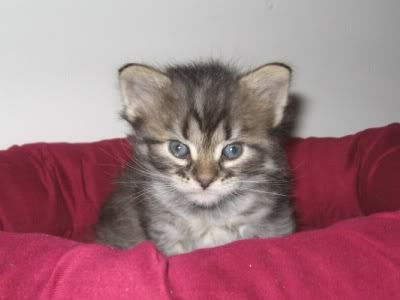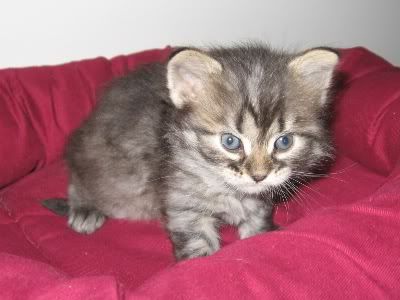 Porkkana melkeinpä poseerasi!
"Carrot" almost posed!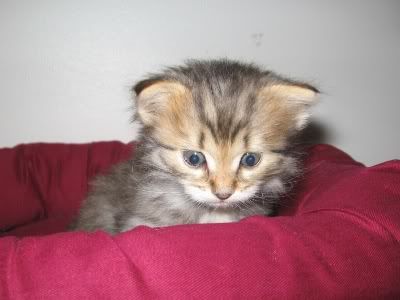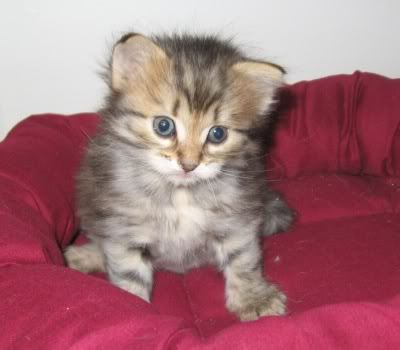 Current Mood:
content

July 6th, 2009
---
02:20 am - Kolme viikkoa - Three weeks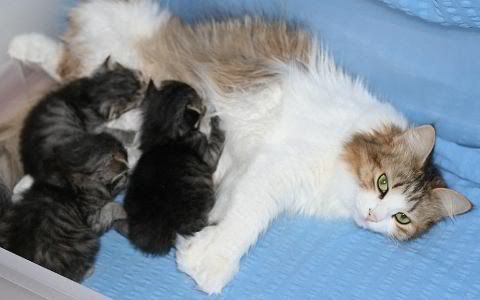 Taikan troikka on ihan yks kaks saavuttanut kolmen viikon iän. Pennut ja emo voivat hyvin, vaikka äskettäiset hellepäivät vetivätkin koko perheen (ihmispalvelija mukaan luettuna) jokseenkin reporangoiksi. Sään viilettyä pennut jaksavat taaperrella ympäriinsä ja maitokin maistuu paremmin.

Taika's troika has all of a sudden reached the age of three weeks. The feline family is well, though everyone (including the human servant) was somewhat limp during the recent heat wave. Now that it's cooler, the kittens toddle around with more energy and their appetite is also heartier.


Pentueen kasvattaja, Amante's-kissalan Merja, kävi katsomassa pikkuisia ja otti kuvia. Meillä on kunnia esitellä...

The litter's breeder, Merja of Amante's cattery, visited and took photos of the kittens. We have the honour to present...

Pippuri, tyttö (i.e. "Pepper", female), SIB n 23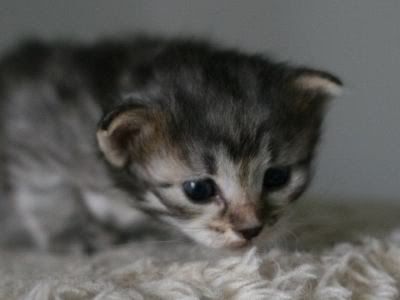 Nimensä mukaisesti pieni, mutta pippurinen tyttönen, jolla myös on paljon asiaa.
This little girl is called "Pepper" due to her fiery character. She is also very talkative.

Porkkana, poika (i.e. "Carrot", boy), SIB n 23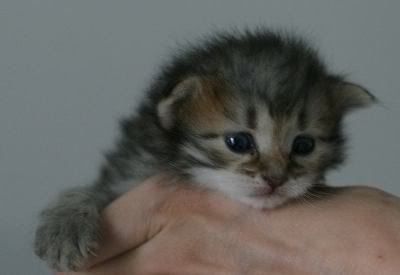 Porkkana on aina tarkkana ja taapertaa innokkaasti tutkimaan uusia asioita.
"Cagey as a carrot", as the Finnish saying goes, this boy is always alert and ready to toddle off to explore new things.

Nalle, poika (i.e. "Teddy", boy), SIB n 23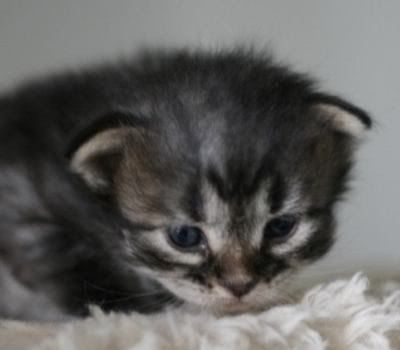 Tämä tumma poika on rauhallinen halinalle, joka viihtyy vuoroin maitobaarissa ja paijattavana.
This darkling teddybear is a calm and cuddly boy who alternates between eating and petting.
Current Mood:
cutesy

June 25th, 2009
---
02:48 pm - Yhteishuoltajuus - Shared custody
Taikan pentutroikka kasvaa ja kehittyy hienosti emon ja tädin hoivissa. Nuppu on alkanut viettää aikaa pesälaatikossa Taikan seurana ja ystävykset hoitavat pentuja yhdessä. Taikan halutessa jaloittelemaan Nuppu jää pesään lapsenvahdiksi. Santtu-setä käy säännöllisesti katsomassa että kaikki on kunnossa ja pennut tiirailevat setää vasta-avatuilla silmillään. Voiko elämä idyllisempää ollakaan?!

Taika's kitten troika is growing and thriving in the care of their mother and aunt. Nuppu has taken to spending time in the nest, keeping Taika company and helping her friend care for the kittens. And when Taika wants to take a break, Nuppu stays and minds the little ones. Unca Sandels stops by regularly to check that all is well, and the little ones peer at him with their newly opened eyes. Can life possibly be more idyllic?!



(

Kuvia! Photos!Collapse

)


Current Mood:
idyllic

June 16th, 2009
---
11:48 pm - Pesälaatikossa - In the nest box
Kolmen Kopla emoineen voi hyvin ja pesälaatikossa on suorastaan idyllinen tunnelma. Taika näyttää selvästi nauttivan emoudesta ja pentujen hoidosta. Pennut ovat eläväisiä, äänekkäitä ja varsin ahneita. :)

The Terrific Trio and their mother are doing well and are quite cosy in the nest box. Taika seems to be clearly enjoying motherhood and caring for her kittens. The wee cheeties are lively, vocal and rather greedy. :)



(

Pari kuvaa! Photos!Collapse

)


Current Mood:
calm

03:21 pm - R.I.P Pärsky
Yksi pojista pudotti painoaan ja kun sille antoi maidonvastiketta ruiskulla, se pärskytteli suurimman osan maidosta ulos suusta ja nenästä. Eläinlääkäri totesi että pojalla oli paha kitalakihalkio, joten se sai lähteä sateenkaarisillalle.

Pikku Pärsky eli vain puolitoista vuorokautta, mutta suru on suuri. Onneksi muut pennut ja Taika-emo voivat hyvin.


One of the boys lost weight and when fed with milk supplement, snorted it out through his mouth and nose. The vet found him to have a bad case of cleft palate and so he was sent to the Rainbow Bridge.

He was with us for only a day and a half, but is sorely missed. Luckily the other kittens and Taika are doing well.
Current Mood:
crushed

June 15th, 2009
---
10:45 pm - Uusia pentuja - New kittens
Pentulaatikossa on taas pieniä ruskeita raitapaitoja! Taikan ja Gideonin pennut eli Amante's P-pennut syntyivät viime yönä. Taika sananmukaisesti pyöräytti pennut maailmaan, reippaasti ja nopeasti, eikä emäntää ja apukätilö Lilliä tarvittu kuin seuraa pitämään.

The nest box is again occupied by wee brown-striped cheeties. Taika and Gideon's kittens, that's to say Amante's P-litter, was born last night. The delivery was quick and easy; I and assistant midwife Lilli were needed only for company.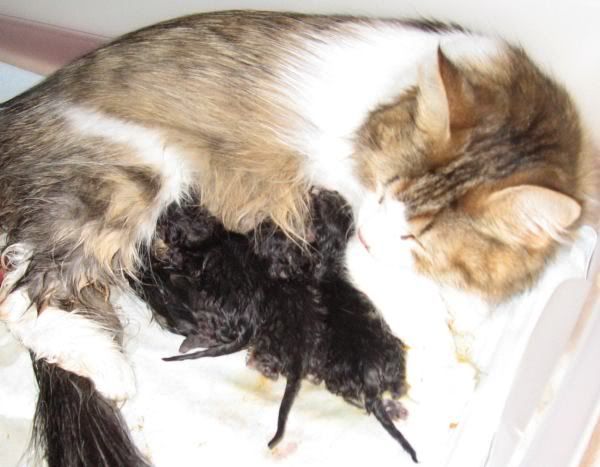 Taikaemosen maitobaarin asiakaskunta koostuu kolmesta pojasta ja yhdestä tomerasta tytöstä, joka parhaansa mukaan tuuppii veljiä pois suosikkinisältään. XD

The clientele of Momma Taika's Milk Bar consists of three kittie laddies and one feisty baggage of a lass, who keeps pushing her brothers away from her favourite teat. XD



(

Vielä yksi kuva! One more photo!Collapse

)


Current Mood:
excited